Vitikart – Fiji's Online Marketplace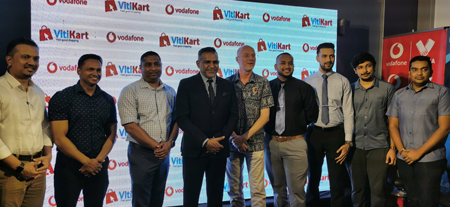 Wednesday 5th August, 2020
The Minster for Commerce, Trade, Transport and Tourism Mr Faiyaz Koya yesterday launched Fiji's first fully fledged online market place known as Vitikart. The platform hosted and managed fully by Vodafone Fiji brings together a range of businesses on a single common online marketplace for consumers to buy online. It provides an end-to-end purchase to delivery service.

Mobile phone users around country would be able download the VitiKart App to go-online, browse and choose from range of products offered by different merchants, select a product or number of products and make an instant purchase and pay for it at the same time. The platform provides a ready-build online platform for any business to register as an online Merchant to be able to sell their goods online.

"At a time when the whole world is grappling with COVID-19 pandemic and its impact on economies, survival of businesses seems to be the order of the day"' said the Acting CEO of Vodafone Fiji, Mr Ronald Prasad. Businesses that have been in existence for decades have succumbed to the devastating economic impacts of COVID 19". Many businesses locally that have also closed shop because they can no longer afford to meet operational cost due to significant decline in sales"' said Mr Prasad.

However, with every crisis, comes new opportunities. There are many businesses that have been quick to adapt and seize the new market opportunities presented by the new normal. With no timeframe as to when this global pandemic may be brought under control, it is imperative that businesses look to new ways of engaging with the customers if they are to survive and sustain themselves.

Mr Prasad said "It is clearly evident that businesses that have adopted digital channels to connect with their customers have been the biggest beneficiaries during this pandemic. Online ecommerce platforms, such as Amazon, for example, recorded 20% growth in revenue in the 2nd quarter of 2020, compared to same period last year. This at a time when most businesses are struggling for survival is an impressive result by any measure.

Whilst, Fiji does not have the market size of the USA for individual businesses to develop and maintain their own eCommerce platforms, bringing together a myriad of merchants on a single virtual marketplace that offer a variety of products for consumers makes more sense in the Fijian context.

Customers will be able to pay for their purchases using M-PAiSA or with Visa and Mastercard. They will have the option to either pick their products directly from the merchants or have the items delivered to them at little extra cost.

VitiKart draw parallels with ebay, AliExpress & Amazon albeit on a small scale with many independent merchants using a common digital platform to offer products directly to consumers. In the first phase, we are bringing online some of Fiji's best brands from highly reputable businesses. Consumers will be able to visit the VitiKart platform online for exclusive deals from these merchants that will not be available in stores. The following merchants will offer their products on sale on Vitikart from today.
• Vodafone
• Valuefone
• Courts Fiji Limited
• Tappoos
• Cybercity
• Prouds
• Jacks of Fiji

With today's consumer seeking greater freedom, more choice and better deals, a common online platform is an ideal platform. During this global pandemic, when businesses are struggling to pay rent and other operating costs, offering their products online provides an effective additional channel.

An added advantage of VitiKart is the payment option available through M-PAISA on your mobiles. Access to credit card is very limited in the Fijian market. M-PAISA provides a very convenient and zero fee alternative for local purchases conveniently from your mobile.

This is great for people in maritime and rural remote areas who may not be able to come to the mainland regularly. They would be able to browse, select and purchase goods online and have these delivered directly to them.

The long term goal is to include the micro entrepreneurs who are selling 'Fijian Made' products and wish to access an online platform to reach out to customers. With this online platform small and micro-entrepreneurs do not need to set up a physical shop or have a 3rd party to sell their local produce but they will have a platform which not only reaches out to the local shoppers, but also to the Fijian diaspora living overseas.

The platform allows only pre-approved/pre-authorized vendors to sell their products on this platform to ensure we maintain credibility and consumer trust in the platform. Customers outside of Fiji could use the service to purchase items for their families in Fiji and have this delivered to their homes.
We hope to have daily, weekly, hourly deals and even season deals from all participating merchants to make VitiKart a "happening place" for shoppers online.

A second batch of merchants will be enabled on the Vitikart Platform in coming to offer greater range of quality products at very competitive prices. VitiKart- Fiji's online Feel Good Shopping Marketplace.