Vodafone launches Exclusive 50th Independence #StrongerTogether Offers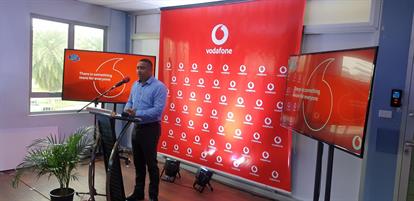 Wednesday 10 September, 2020
As a mark of Fiji's 50th independence, Vodafone Fiji today unveiled a total revision of all its prepaid and postpaid mobile internet & broadband data plans to give more data to its customers. After its recent $210m network upgrade program covering the whole of Fiji, Vodafone Fiji is in a much stronger position with greater network capacity to offer more value and better user experience to its customers. Vodafone understands the ever-growing demand for data and faster speeds.
In making the announcement, Vodafone Fiji acting CEO, Mr. Ronald Prasad said, "We have revised our entire suite of data packages with increases in data amounts from 10-15% up to 400% offering greater freedom of choice for our customers, depending on their level of affordability and appetite. This offer is not on any one plan only, but across all our entire mobile internet and broadband range, including our postpaid and business plans."
Mr Prasad also introduced a never-before-seen affordable smartphone for all its new customers to access data services, "To complement this and to coincide with Fiji's 50th year of Independence, Vodafone is also introducing a 4G Smartphone for only $50 for all our new customers to access data and internet services. This is the cheapest ever price for a 4G smartphone in Fiji, and is being sold below cost to make it affordable for customers at this difficult time. The smartphone will come with a FREE Vodafone SIM and 50GB FREE data for new customers."
In addition to this, Vodafone Fiji is also giving away $50,000 in cash shared equally between 10 lucky winners through a text and win promotion. This will be drawn on 10th October Independence Day weekend. Also, every multiple of 50 entries is 50th, 100th, 150th and so on will automatically win $50 in cash back, deposited directly into their M-PAiSA account.
2020 has been a challenging year for all of us. However, despite the turbulent business environment, Fijians have shown a great resilience and remained optimistic. Network connectivity has been critical to keeping the economy moving as the country and the world went into lockdown mode. Facilitating work from home initiatives for workers and businesses, enabling children to take online studies and even enabling receipt of international money transfers through mobiles have been some of the standout achievements and contributions that Vodafone Fiji was able to provide in these difficult times.
"Continuous investment in our Network and building resiliency have been key to providing reliable and uninterrupted services to our customers. The final leg of $210m network upgrade program is expected to be wrapped up in the next 2 weeks," Prasad added.
"We have added 147 new 4G base station taking our total to 540 sites. We have upgraded 100 sites from 3G to 4G, taking our 4G coverage to 85% of the Fiji's population, almost 3 times that of any other provider in Fiji. With this investment we now provide data access to 96% of Fiji's population. We have also increased smartphone penetration on our Network to 85%. This is a significant achievement by any standards and from a technology point of view, Fiji ranks second to none in the region."
"We are also working with our sponsored properties to stage, for the first time in Fiji, a Vanua Arm Wrestling Championship. Some of the lucky sport fans who turn up at any Vodafone sponsored Rugby Union, Rugby League or Soccer competitions will get a chance to arm wrestle with other fans to win free data, talk-time as well as brand new smart phones. The arm-wrestling competition is about fostering the spirit of "stronger together" as a community, promoting greater optimism away from the months of doom and gloom, and to add more fun and positivity all around as we celebrate 50 years of independence. We will also be announcing further details in the coming days on a special social media promotion where our customers can win $500 cash daily and the grand winner will take away a brand-new Samsung Galaxy Note 10 Ultra, so stay tuned."
$30m Investment back into the Community
Finally, Vodafone Fiji remains passionate about giving back to our communities. Through the Vodafone Foundation, over the last 17 years, we have invested over $30M in various social initiatives – from capacity building projects to income generation to mentoring, coaching and counselling social good programs. Our "World of Difference, Double Your Dollar, Stop Drugs and Mobile for Good programs have made positive and lasting impacts at every level of society. In recognition of Fiji's 50 years of independence and to mark the World Suicide Prevention day, Vodafone Foundation is handing over $150,000 to various charities and partner organizations to help continue the good work they have doing in our communities.