Vodafone boosts Wearing Fiji Project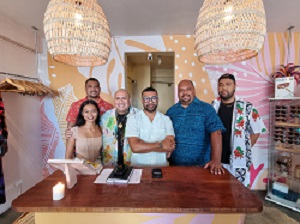 Thursaday,27th April, 2023
Vodafone Fiji Boosts wearing Fiji Project

Vodafone Fiji today announced their support for this year's Wearing Fiji initiative at the renowned SL Boutique in Suva.

Speaking at the event, Vodafone's Manager Sponsorship Mr. Adriu Vakarau said "Vodafone Fiji has recently joined hands with Fiji Fashion Week – the ultimate platform for Fijian fashion. Today, we forge another partnership with the fashion industry by sponsoring the Wearing Fiji project."
He added, " Vodafone continues to invest in initiatives that benefit local communities. This sponsorship support enables our creative minds to enhance their artistic skills. We have a long-standing partnership with the project Co-Founder, Samson Lee. With our Pinktober initiatives, Samson Lee's benevolence shines through his efforts. Today we are on board with a shared passion for supporting Fijian Made and encouraging the younger generation to pursue their fashion interest. Through the provision of funds, trade tools, and skill learning, we actively empower our youth through many of our initiatives across the country."

Spokesperson for Wearing Fiji Temesia Tuicaumia said, "The vision behind the establishment of Wearing Fiji by the co-founders Samson Lee and Neisau Tuidraki is to empower and encourage the creative minds and provide a pathway to support the aspiring Fijian designers through the three-month mentorship program".

We thank Vodafone Fiji for supporting our initiative and being part of this vision that sparks creativity and gives a voice to potential designers through fashion for trendsetting fashion for Fiji and the Pacific, added Tuicaumia.

Through Fiji Fashion Week and now Wearing Fiji, we aim to stimulate the Fijian fashion industry and create spaces to exchange fashion knowledge. With our organizational credo of Passion for the Vanua, we ensure that we keep to the theme of supporting LOCAL initiatives through all our sponsorships. The Wearing Fiji project has yielded some unique success stories which is the aim behind our sponsorships", commented Mr. Vakarau.

Speaking at the event were two students who have now become established designers in the Fijian fashion industry. Sharing their success stories were Maureen Angelee Mortel and Shane Pickering. Both shared having learned a lot through the mentorship program. Ms. Mortel who runs the label 'MAAM, acknowledged the work of the mentors in transforming her interest in fashion design to that of a fully-fledged fashion designer. While Mr. Pickering also thanked the Wearing Fiji team for transforming his career into fashion having to now design exquisite attires for influential clients through his designer label 'Laboriel', retailing from a shop at Flea Market.
Wearing Fiji focuses on mentoring by connecting student designers with established designers. The project having progressed into its third year has seen 18 student designers go through the mentoring program from various backgrounds and communities in Fiji.
Co-Founder Samson Lee confirms the theme for this year's project is "Sauloa" under the mentorship of established designers, such as Hupfeld Hoerder, Robert Verebasaga, Andrew Powell, Natalia Larsen, and Temesia Tuicaumia and himself.
For further information contact:

Media Relations
Head of E-Commerce
fozia.muktar@vodafone.com.fj
shailendra.prasad@vodafone.com.fj