Vodafone Renews Partnership with FNRL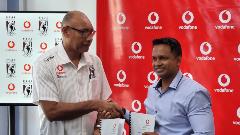 Vodafone Fiji today announced the renewal of its sponsorship with Fiji National Rugby League for 3 years.
Vodafone's Chief Marketing Officer, Rajnesh Prasad said that "Vodafone Fiji has had a long-standing relationship with FNRL dating back to 2006. We have stood by FNRL over the years and never wavered in providing support from grassroots development levels to the international arena. Even during the pandemic when there was little to no sporting activity and Vodafone itself was facing uncertainties like most other corporates, we still stood in solidarity, supporting the rugby league body with some level of support to ensure that the sport was able to sustain its basic administrative functions in the most trying times".
FNRL's Chairman and Rear Admiral (retired), Viliame Naupoto, affirmed the continued partnership saying "I am delighted on behalf of the League to be able to witness and see through the extension of what has become a special vuvale bond between the rugby league communities and the Vodafone brand. Today's occasion is a grand one for Fijian rugby league. It is exciting to announce a renewed partnership that will see the sport reach new heights in the next 3 years. Truly amazing to be able to celebrate 30 years of rugby league in Fiji with a renewed partnership that promises development at grassroots and secondary schools' level and up to the elite pathways program".
Prasad reminisced on the partnership saying "together we have seen many successes including Vodafone Fiji Bati reaching the semi-finals in three consecutive World Cups which is a memorable milestone in the history of Fijian Rugby League". He added that "Vodafone Fiji is extremely proud of the years of investment done for our youths through the sponsorship of Secondary Schools competitions, fostering some outstanding players. FNRL's Secondary Schools competitions have grown from strength to strength now boasting a total of 72 schools as part of the competition. The secondary schools have been a breeding ground for some outstanding talents that have gone on to don the national jersey and play in the professional NRL competition in Australia".
"Vodafone's partnership with FNRL from 2006 has seen some of the best times that rugby league players, volunteers and officials have seen over the past 30 years of the sport. Reaching Fiji's first national World Cup semi-finals berth in 2008, winning against World #1 New Zealand in 2017, sending the first national women's team to their first international test match and bringing home the inaugural Oceania Shield in 2019 are some of the key highlights of our national teams' achievements throughout our short history.
Here at home, the Vodafone Cup competition has been Fiji's premier elite rugby league competition over 15 years since 2006 providing a development pathway for young men from diverse communities in Fiji. The Fiji secondary schools Vodafone Trophy tournament have enabled renowned rugby league stars like Viliame Kikau, Suliasi Vunivalu, and Tui Kamikamica to acquaint themselves with a sport that would later earn them lucrative athletic careers and world fame, stated Naupoto.
"Our passion for the Vanua and the people has always been at the centre of everything we do. Our organization's credo is what drives our commitment to community-oriented events and sports throughout the country. Today, Vodafone Fiji reaffirms its support for Rugby League in the country in announcing the renewal of our sponsorship with FNRL for a further three years. With the Rugby League World Cup just months ahead, this should be a welcome boost to the FNRL coffers. With the funding, we will not only support developmental sports but help to create a pathway for our young legions. Our three-year sponsorship will extend to the Secondary Schools Competitions as well. We strongly believe this sponsorship is crucial for upcoming talents as this is often the formative stage of their rugby career, said Prasad.
Naupoto added that at FNRL, "we believe that sport is an excellent tool for holistic character development in our youths and young children. Rugby League creates opportunities for professional careers, it engages communities in physical activities, recreation and drives youth energy and creativity towards productive initiatives and Vodafone's partnership allows us to do that as a sporting community".
"Vodafone Fiji is a future-focused organization. Our goal is to connect Fijians with the latest in next-generation technology. We are dedicated to keeping that promise. We remain steadfast in delivering cutting-edge mobile communications products and services as we transition into a new generation of connectivity and digital services provider. We continue to provide next-generation mobile networks, innovative products, seamless solutions, digitalization, and corporate social responsibility to our customers. A significant part of our accomplishments has always been to positively influence the Fijian economy, which we mainly accomplish through our sponsored partners", added Prasad.
Addressing the future outlook of Rugby League in the country, Naupoto stated that "We are proud as a sport to have Vodafone continue its long-standing commercial partnership with the FNRL with an even greater intention to support female participation into the future. This year as we reflect on a resilient 30 years of rugby league in Fiji, we pay respects to the many volunteers, communities and hard-working individuals that have contributed their time and effort towards sustaining the sport and upholding FNRL's vision to be a sport of choice for all. Into the future, we can see rugby league as a sport for all men and women, young and old, without any limitations or barriers - and as a sport, our focus for the next 3 years is on delivering our vision to reach as many Fijian communities".
Prasad in his concluding remarks said, "The Rugby League calendar for this year is an exciting one as the Vodafone Fiji Bati prepares for the World Cup in October. We have over the years and will once again stand firm behind the team as they carry the Fijian Flag into UK to demonstrate their extraordinary Fijian rugby talent". He also acknowledged the entire Fiji National Rugby League for their efforts in growing the sport in the country.
"This October our gladiators set sail for the United Kingdom to compete in the Rugby League World Cup. The Vodafone Fiji Bati are ready and poised for what will be the biggest Rugby League World Cup yet. Our Bati have set their eyes on a podium finish in England", said Naupoto. He also called on every Fijian here and abroad to get behind our Bati on the tour up North.
"We have as a proud and resilient sporting nation stood together in tougher times and now we have a wonderful opportunity to once again show our unity and support our boys. I commend and once again acknowledge the stellar team at Vodafone, and Regional CEO Pradeep Lal for their loyalty and partnership. Naupoto expressed his appreciation and commendation to the FNRL Board, staff, and most importantly to the Fijian rugby league communities who will continue to participate in and enjoy the initiatives of this great commercial partnership for the sport in the next 3 exciting years.
For further information contact:

Media Relations
Head of E-Commerce
fozia.muktar@vodafone.com.fj
shailendra.prasad@vodafone.com.fj