TAIONE SIKIVOU WINS VODAFONE FIJI NATIONAL CHESS CHAMPIONSHIP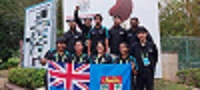 Friday 23rd December, 2022
2022 Vodafone Fiji National Chess Championship
Candidate Master (CM) Taione Sikivou had an unbeaten run of five wins and two draws with siblings Tanvi Prasad and Rudr Prasad to clinch the 2022 Vodafone Fiji National Chess Championship with a score of 6/7, the same score as CM Manoj Kumar who finished second after a loss to the overall winner. 20 year-old Yash Maharaj of The University of the South Pacific, CM Goru Arvind and 17-year-old Rudr Prasad of Jai Narayan College finished 3rd, 4th and 5th respectively with 5/7.
The prize-giving ceremony was graced by Vodafone Fiji Head of Recharge and Distribution, Mr. Nilesh Kumar after four days of intense chess. The event was administered by FIDE National Arbiter William Bennion, and a prize pool of $ 1,000 cash and several mobile phones were distributed to the winners with trophies and medals.
"Fiji Chess Federation and all our players are thankful to Vodafone Fiji for partnering with our team for the 2022 National Chess Championship which helped us to select our 2023 Oceania Zonal reps in Australia from 23-28 January," states General Secretary Goru Arvind. "The Open and Women's National Champion have qualified to represent Fiji against some of the best chess players from Australia, New Zealand and smaller Pacific Island Countries."
16-year-old Tanvi Prasad of Jai Narayan College won the Women's National Chess Championship title by tie-break over Jacquelyn Masilomani with 4/7. Anisha Eshal Bari finished 3rd in the Women's Division with 3.5/7 in her first chess tournament.
Newcomer Zayne Elmond Keshwan impressed in his maiden tournament by winning the Secondary School's Division with 4/7 via tie-break over Ayush Chand of Jai Nayaran College and Ryan Kumar who also finished with the same score. As a result, Zayne Elmond Keshwan was given the Best Beginner Award.
"With our official playing venue at Fiji Olympic House becoming operational this month we are eager to host the 2022 National Blitz Chess Championship in January 2023," adds Goru Arvind. "The event is once more sponsored by Vodafone Fiji to support our growing sport."
The Primary School's Division was won by Arnav Lal of Deenbandhoo Primary School with 3.5/7 while Anush Shay Chand of Gospel Primary School and 8-year-old Yash Yuvaan Prasad of Deenbandhoo Primary School secured the 2nd and 3rd positions, respectively.
The Vodafone Fiji National Blitz Chess Championship in January 2023 will introduce new champions for a shorter format of the sport
For further information contact:

Media Relations
Head of E-Commerce
fozia.muktar@vodafone.com.fj
shailendra.prasad@vodafone.com.fj