M-PAiSA QR Pay now Available at On The Go Mobil Station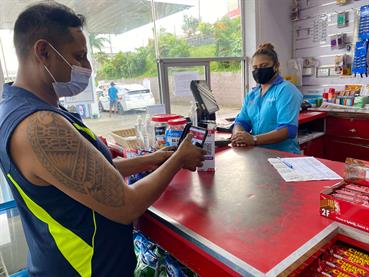 The next time you stopover to fuel up at any of the On The Go Mobil Service Stations, you can make cashless payment using M-PAiSA QR. Fiji's largest fuel retailer, On The Go, has also jumped on the bandwagon to provide the safer and convenient cashless payment option through M-PAiSA QR using your mobile phone.
The National Operations Manager for "On the Go" Mobil Service Stations, Ms. Melba Lala said, "lately we have been getting numerous requests from our customers to enable M-PAiSA as a payment option at our outlets. It was therefore appropriate that we listen to our customers and open up this payment channel for the convenience and safety of our customers, particularly during this pandemic. We are delighted to partner with Vodafone to provide this contactless and cashless payment via M-PAiSA to our customers at all our 19 On The Go Mobil service stations including Labasa. Mobile phone-based payment is now becoming a norm and we are happy to move with time to keep up with the latest payment trends".
Head of Vodafone eCommerce, Mr. Shailendra Prasad said, "M-PAiSA has been a revelation specially during this pandemic as people have taken to more safe and contactless payment options to avoid the risk of COVID. We have recorded a significant increase in active M-PAiSA user base as more people get more conversant and confident with the use of service. This augurs well for a move towards fully fledged cashless payment ecosystem and digital economy with the convenience of doing transactions any time and from anywhere without the need to carry cash.