Vodafone Fiji signed a three-year sponsorship with Fiji Fashion Week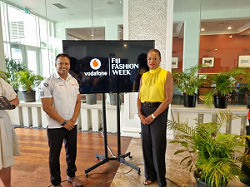 Wednesday,1st March, 2023
Vodafone Fiji Sign three year deal with Fiji Fashion Week

Announcing the sponsorship deal at the Grand Pacific Hotel, Vodafone's Acting CEO Rajnesh Prasad said that "we are elated to partner with the brilliant organizers of Fiji Fashion Week spotlighting incredible local talents and designers. We join forces with a shared vision of having our Fijian artists, models, and designers step further onto the regional and global stage".
Fiji Fashion Week is celebrating its 16th year in the Fijian fashion industry. FJFW's Managing Director Ellen Whippy-Knight shared her sentiments towards sealing the sponsorship deal with Vodafone. "I can't tell you how thrilled we are to be partnering with Vodafone in 2023. And many more years to come, I hope! I have been knocking on Vodafone's door since 2013 and 10 years later here we are! Just goes to show that persistence pays", she said.
Prasad added that "Together with the mega-Fijian fashion platform, we hope to support Fijian fashion in the present and thrive in the future. Fashion is a huge industry on a global scale that has a multiplier effect in that it engages and benefits more stakeholders as a result of its progress.
"Certainly, there is room for more local talents and boundaries to be explored within the Fijian fashion industry. Together, we will work to make this event a resounding success on a national, regional and even global scale", said Prasad.
With Vodafone onboarding as a partner sponsor, Ms Whippy-Knight hopes to foster Fijian designers that will support our Pacific creative community in the future. FJFW guests will generate their own unique content for global audiences, reinforcing Fiji's connection to culture, beauty, lifestyle and global fashion.
She added that "FJFW is truly proud to have Vodafone by our side in 2023-25 as, together, we communicate the strength and potential of Fijian fashion and design to the world".
The 2023 Vodafone FJFW starts on May 27th and ends on June 3rd.
For further information contact:

Media Relations
Head of E-Commerce
fozia.muktar@vodafone.com.fj
shailendra.prasad@vodafone.com.fj