BOB launch M-PAiSA banking app integration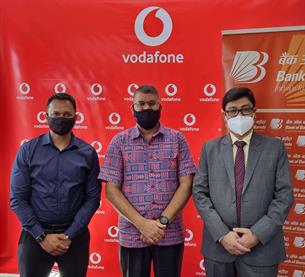 Wednesday 20th October, 2021
Bank of Baroda has successfully integrated M-PAISA with its customers bank accounts that will allow Baroda customers to transfer money from their bank account into M-PAISA 24 x 7 from anywhere in Fiji. The service is real time, which means money transferred from customers bank account will reflect in their M-PAISA account within seconds. The integration was launched today at Vodafone Headquarters in Tamavua.
Bank of Baroda CEO Mr. Sudhansu Sekhar Khamari said, "Technologies have changed the operational and service delivery models of many industries and banking is no different. In this age of information and digital revolution, banks around the world are continuously adapting to new changes by offering innovative products to meet the dynamic evolving needs of its customers. The integration between Bank of Baroda and Vodafone is revolution. It is further step in our journey of innovation. This integration enables us to offer enhanced features in mobile banking application for our Fijian consumers. The relationship between Vodafone and Bank of Baroda will definitely contribute towards digitalization of the Fijian Economy taking our relationship to new height. At Bank of Baroda, customer centricity lies at the heart of everything we do. We are now undertaking yet another novel initiative, promising to make the banking experience of our customers seamless through the BOB-Mpaisa integration.
The integrations allow customers to transfer the amount from Bank of Baroda Account to M-paisa account on real time basis, Recharge/Top-up the Vodafone Pre paid, Recharge the E-transport card and also make Utility Payment.
Vodafone Chief Marketing Officer, Rajnesh Prasad, "The pandemic has put M-PAiSA service in the limelight as everyone now see its value being a cashless, contactless payment and money transfer service. The Government has used this service to successfully deliver cash assistance to hundreds of thousands of people right in the palm of their hands during the lockdown. Families abroad have been able to provide cash assistance to relatives in Fiji through international money transfer directly on the mobiles. We are now receiving around $20M per month in international money transfer and for this month we are on track to set another record. Several NGO's such as Save the Children are using M-PAISA to deliver cash assistance to many families around Fiji affected by COVID. Furthermore, many businesses have adopted cashless and contactless payment through QR Pay whilst others have enabled remote payment option where customers can order goods and pay remotely via M-PAiSA. Local Person-to-Person Money transfers hit a record $92M in August and is expected to grow further. We are now processing around $160M in M-PAISA transactions each month and expect to do around $1B in total transactions for the year 2021."
The integration had the full backing of the Reserve Bank of Fiji - "Digital Financial Services or DFS continues to be the driving factor that is changing the fabric of how financial services around the world and here in Fiji. The Covid19 pandemic has in a way, accelerated these developments and DFS is pushing more efficient delivery, breaking barriers for access to financial services and encouraging innovation by disrupting traditional banking practices. I welcome this evolution and support the bank integration Partnership between Bank of Baroda and the Vodafone Fiji M-PAiSA platform which is a step in the right direction. The Baroda and Vodafone partnership are timely and compliments National Payment System Reform work that the Reserve Bank is currently leading, which is strongly supported by the Fijian Government, as evident in the unanimous passing of the National Payment System Act 2021 by Parliament in February this year," said Governor of Fiji Reserve Bank, Ariff Ali.
For further information contact:

Media Relations
Head of E-Commerce
william.tabuya@vodafone.com.fj
shailendra.prasad@vodafone.com.fj