Northern Air to Accept M-PAiSA for Flight Booking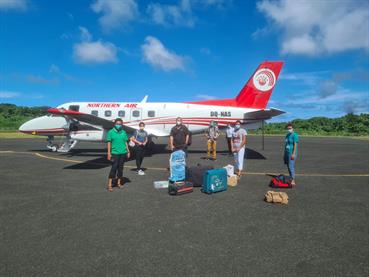 Saturday 29th September, 2021
Northern Air Services and Charter Limited has signed up for Vodafone's M-PAiSA mobile payment service to provide its customers the convenience of making cashless payment through their mobile phone. The Managing Director of Northern Air Services, Captain San said "we are extremely pleased to offer this 24-hour ticket booking and payment channel at no additional cost to our customers around the country. There is certainly lot of excitement in the air with the prospect of our planes taking to the skies once more as travel restriction are expected to ease soon."
Mr. Sen further added, "we are cautious of the COVID protocols that may still need to be followed once air travel restarts. By providing cashless payment via M-PAiSA QR over counter or remotely through the M-PAiSA App, will ensure safer payment options for our customers. It will also reduce cash handling by our staff avoiding unnecessary person-to-person contacts.
Through this service, our customers to call Northern Air Services from anywhere during working hours to book their ticket on any domestic travel route that Northern Air provides service. Once the booking is confirmed, the customers are provided with a unique booking reference number which they need to enter when making the payment through M-PAiSA. The payment can be made 24x7 at the customer's convenience.
On receipt of the payment, Northern Air will issue travel tickets instantly and send to customer on the email provided. The most important aspect of this service is that customers do not need to visit a travel agent or our office to book a ticket. By simply making a call to our office on contact numbers 9958162, 3475003 and 3475005, customers will now be able to book and pay for their travel tickets remotely from anywhere. The Acting CEO of Vodafone Fiji, Rajnesh Prasad said, "we are pleased to offer the convenience of M-PAiSA payment service to Northern Air customers Fiji wide. Travelling can also sometimes be a last-minute emergency. For instance, if there is someone sick or if there is a death in the family and you are required to make immediate travel arrangement. This service will allow you to book a ticket and pay instantly to confirm your travel arrangements. Furthermore, the service is available free of charge to the public. The M-PAiSA payment is much better than paying with your credit card wherein you are levied additional charges of up to 3% on top of the ticket price
As a promotional launch offer for the next two months ending 30 November, 2021, all Northern Air passengers who book their tickets and pay via M-PAiSA will also go into the draw to win 2 x return tickets to and from any Northern Air destination.
All Vodafone and Inkk mobile users on the Vodafone network registered for the M-PAiSA service are able to use this service through the M-PAiSA App or by dialing *181#. Northern Air Services provides air travel to Labasa, Savusavu, Taveuni, Gau Island, Moala. Levuka and Nadi.
For further information contact:

Media Relations
Head of E-Commerce
william.tabuya@vodafone.com.fj
shailendra.prasad@vodafone.com.fj